AKAMAS: the movie
---
AKAMAS, Synopsis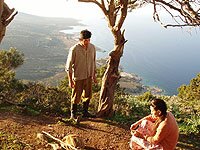 OMERIS, a Turkish Cypriot boy, grows up with Greek Cypriots during the innocent years of his homeland. He has been taught that human beings have no differences, thought they call themselves Greek or Turk, Muslim or Christian. When he falls in love with a Greek Cypriot girl, he realizes that the world around is not as he expected. But the game of love is often painful: He has to find a way to win the girl's love. Later, he discovers that, what is natural for the rest of the world – to be together with the person one loves – for him turns out to be an adventure. He has to fight against the absurdity of fanaticism that invades his personal life and tries to crush it.





AKAMAS, Directors brief comment on the film

The story moves in a cycle, that is a process of knowledge. "Akamas" is a symbol. It is a peninsula, unique in natural beauty.

This unites the main characters of the film, when is still living in the period of its innocence. But for them, having been forced to live there without the company of friends, it is a place of exile. Their dream is to find happiness living among other people. When they achieve this, they discover that exile can exist even among people. And this exile is the bitterest.



AKAMAS, Director's biography

Panicos Chrysanthou was born in Kythrea, at 15th of August 1951. He studied literature and philoshophy at the University of Athens. He worked in as a Film Critic, Curator of the Nicosia Film Club and the Film Archive and as a director of the art cinema "Studio" in Nicosia. In 1987 he had the chance to make his first film.